Anders Roslund's Three Days / Knock Knock reviewed in My Chestnut Reading Tree Book Blog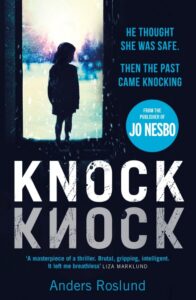 "This is the first book I've read by Anders Roslund and I would have no hesitation in reading another! I love Swedish crime fiction and this one is up there with the very best. It has one of the most shocking and heartbreaking openings that I have ever read in a crime thriller and that powerful start continued throughout this hard hitting and gripping novel.
This is an intelligently crafted thriller … The twists and turns came thick and fast as the very dark side of the criminal investigation slowly unravelled in this adrenaline fuelled thriller. I felt completely on edge throughout and the images inspired by the author really did give me nightmares especially those horrific first few pages.
This is a book that will grab you and not let you go until the final page. I found it to be one I couldn't put down until I had all the answers and when they came, they were well worth the wait. Knock Knock is a sharply observed, penetrating read that surprised and shocked me with its intensity. If you're a fan of Jo Nesbo make sure you give Anders Roslund a read-you won't regret it!"