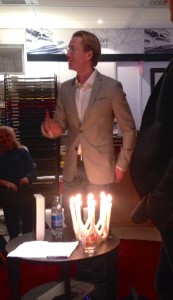 Västerviks-Tidningen:
The book took two years to write and is, according to the authors, basically a father-and-son story about Stefan Thunberg's oldest brother – who was also the Military League's leader – and the brothers' harsh and domineering father. Thunberg describes the relationship as the "heartbeat" of the story.
Read the whole story in Västerviks-Tidningen.
Erik Hultgrens Bookstore about the "amazing magical Wednesday evening":
"I know I'm biased, but several times during the performance I discovered that I sat and gaped and got to shut my mouth. Stefan Thunberg is the fourth brother who decided to tell the exciting story behind the Military League and his brothers' involvement. In a strong and skinless way described Anders and Stefan how it was to write Björndansen / Made in Sweden and it touched me greatly. "
Read the whole story at Erik Hultgrens.